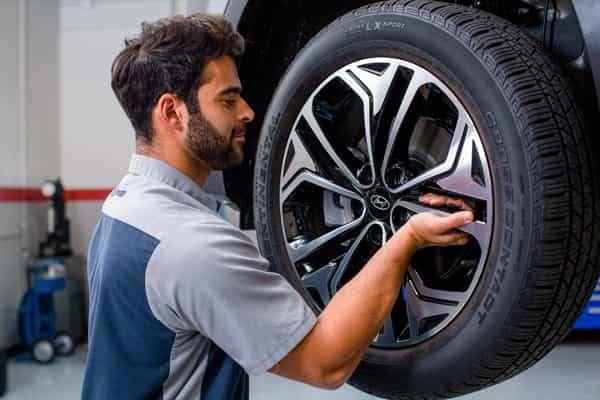 While you may have a little sticker reminding you of your next oil change, not everyone knows when their next tire rotation is due. We'll help you determine your ideal maintenance schedule and when it's time for "Hyundai service near me" at Hall Hyundai Elizabeth City.
How Often Do I Need a Tire Rotation?
Without routine tire rotations, your tires will wear down unevenly, causing you to lose traction and have an increased risk of blowouts. While it differs for every vehicle, it is typically recommended to rotate your tires every six to eight months. Our service professionals can help you determine just how often your tires should be rotated with a visual inspection.
When Do I Need to Replace My Tires?
Even with proper maintenance, there are times when a replacement is necessary.
Less than 2/32-inch of tread left
Abnormal bulges in the sidewall
Cracks and excessive wear and tear
Excessive age or mileage
How Can I Increase My Tires' Lifespan?
Looking to get the most out of your tires? There are a few things you can do that can help increase their lifespan.
Use caution when driving – try to avoid obstacles or potholes in the road while driving. You also want to avoid excessive speed (which can lead to overheating) and slamming on the brakes too.
Check your tire pressure – keeping your tires properly inflated can help your tires avoid excessive wear. Use a tire pressure gauge to ensure your tire pressure doesn't get too low.
Get routine maintenance – yes, those tire rotations really are that important! Don't skip on your maintenance appointments - they are crucial to getting the most out of your tires.
Visit our Hyundai dealership in Elizabeth City, NC to care for your tires, we want to help you get the most out of your vehicle!